CUSTOM MADE FOR YOUR WINDOW!
These shutters slide on a track in front of large windows or doors, giving easy access. They can be pulled right back to let the light stream in.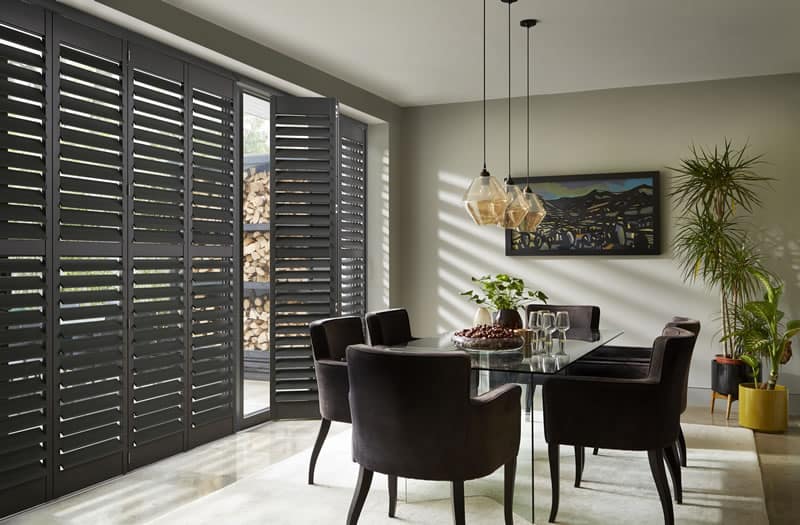 FULL HEIGHT SHUTTER GALLERY
We Have The Following Selection Of Shutter Type Choices
SHUTTER COLLECTIONS
We Have The Following Selection Of Shutter Collections
Seattle
The Seattle is our contemporary choice of shutter. Not only is this range durable, as its made from MDF and coated in polymer, it's a more affordable option and has a wipe clean surface.
It's a recommended option for high traffic areas within the home. The Seattle is available in 9 colours. Recommended for Living Rooms, Bedrooms and Children's bedrooms.
Montana
The Montana collection is made from premium hardwood, with an engineered core to prevent the possibility of warping. They have a stunning light grain with a smooth finish, and are well suited to rooms that require extra durability.
The range comes in a choice of 45 stains and colours, and can have a custom colour finish. Recommended for All types of rooms.
Hollywood
The ABS shutter range is highly resistant to water, so makes another great shutter choice for kitchens and bathrooms. The Holly Wood range has superior strength to prevent warping, denting and chipping and has a beautiful matte finish.
This robust shutter is available in a range of 23 colours. Recommended for Bathrooms, Kitchens and Wet rooms.
1 YEAR GUARANTEE
We are proud of our quality & back them with a 36 month guarantee.
EXPERIENCE
Our experience means we produce quality & beautiful end products.